Owner, Jenn Glosemeyer shares the backstory of Boulevard Bride and how it came to be…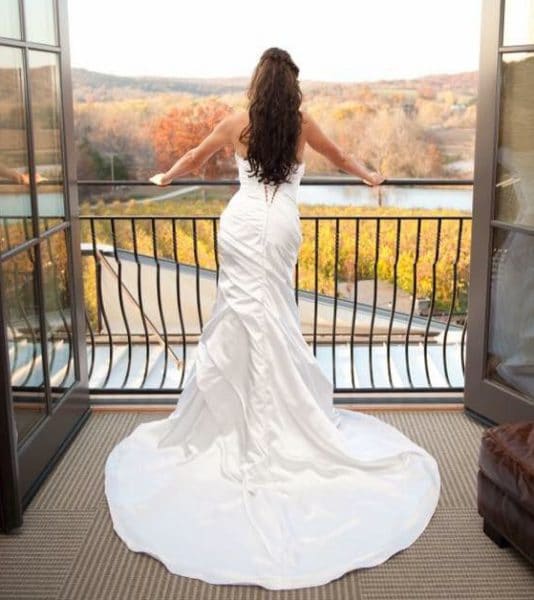 Emma: Tell me a little bit about yourself. Where did you grow up?
Jenn: I grew up in St. Charles, Missouri.
Emma: Did you go to college?
Jenn: Yes. I went to the University of Missouri – St. Louis and pursued a Communications Degree, then ended up going back to school to obtain my Nursing Degree.
Emma: Are you married?
Jenn: Yep! We've been together for 12 years and married for 7.5 years. My husband is amazing – I wake up every day thankful that he is my best friend and partner in life. He really is my other half. We are completely opposite, but we just fit together!
Emma: Do you have children?
Jenn: I have three kids: a 20-year-old daughter who is a third-year nursing student at Maryville University, an eight-year-old son who loves hockey, and a four-year-old son who dominates the Ninja classes over at LittleBits gym.
Emma: What did you do for work before you owned a Bridal Store?
Jenn: I worked as a full-time nurse.
Emma: After being a nurse, how did you get the idea to start your own business?
Jenn: It's funny… I planned my own wedding and loved it so much that I started looking for a way to get into the wedding business. I ended up purchasing a photo booth and starting a side-business.
I did that for a few years, then just happened to be looking around online and found a store for sale. Next thing I knew, I had purchased a Bridal Shop!
Emma: What support did you have when creating your business?
Jenn: I would call gown reps and ask as many questions as I could for some guidance. My family was also a HUGE part of the journey. My mom makes us customs veils by hand, and my husband and my uncle did all the work when we changed the floor plan of our old location. Eventually, we started to get into our own style and flow that worked for us and our customers.
Emma: When did Boulevard Bride officially open for business?
Jenn: February of 2012
Emma: Why did you choose to move from your old space to the Meadows at Lake St. Louis?
Jenn: After leaving our old space, I drove over to the Meadows to look around. I think I already had it in my head that I wanted to move to this location, and after meeting the general manager, it was really an easy decision!
Emma: How have you seen your business succeed from the day you first opened?
Jenn: It has been a wild ride! We have grown so much.
Since the beginning, we've added so many services. The bridal industry is every changing and you must be willing to adapt to make it. Not only do the styles change, but the brides themselves and the way they shop is constantly changing.
The internet, social media, and Pinterest has changed the market for the better in many ways too, but it has also made it harder because there are so many counterfeit websites with copies of gowns and so on.
Emma: What does a typical day in the life of a business owner look like for you?
Jenn: It is busy from the moment I wake up until the moment I go to bed.
Every day is different, and you have to wear a million hats… I've been everything from a plumber to a counselor within a matter of hours!
Emma: What is your favorite part about your job?
Jenn: The fact that there is always something new and the way we get to celebrate our brides! Think about it – we get to be a part of the happiest day in so many people's lives. It is awesome!
Emma: What advice would you give to others trying to achieve their entrepreneurial dream?
Jenn: It is hard. This will be the hardest job you have ever had! You will cry, you will make mistakes, but if you learn from them then you will never have a more rewarding career. Just buckle up and keep going, and don't be afraid to ask for help! I would have never made it without the help from my family, friends, reps, and my customers.
One thing about owning a small business is you get to see the best from a lot of different people. I'll never forget the father of the bride who help me battle the largest spider I've ever seen on the front door of my old store!